Welcome
Welcome to Dubdisk Records, the UK's grimiest independent dubstep label!
Based in south-west England, we support a range of artists specialising in dubstep and other forms of electronic music. We don't put out anything which isn't dark and loud so everytime you see the Dubdisk logo expect to get your ears kicked in!
Why not have a listen, follow us on Twitter or friend us on Facebook and Google+!
Remember to support your local indie dubstep and electronic musicians, don't forget to visit the shop.
Latest updates
Out today - OG link with Black Rock for darkness!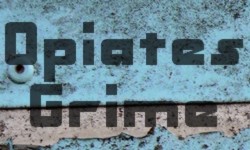 Opiates Grime bring you a sick collaboration with UK grime badman Black Rock! Proper heavy with some wicked sampling, more Dubdisk collaborations on the way later is year! Copies are available via our downloads page or from all good online retailers.
02.07.16
New tunes - Blue Angel getting twisted!
Blue Angel return with their most twisted release this year, dark and grindy, things are getting bare f$%ked up Dubdisk Style! Listen on YouTube or find a full copy on Spotify.
07.05.16